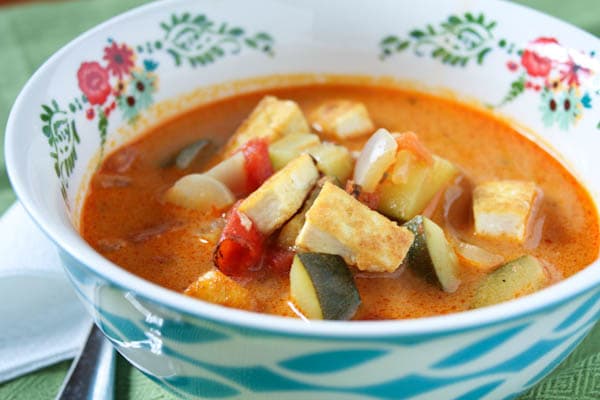 Hi my name is Aggie and I am the author of the food blog Aggie's Kitchen. I've been blogging for a little over 3 years now, and have loved every minute of it. The recipes I post on my blog are based on what I'm cooking at home for my family and friends…I love healthy, nutritious and delicious food and I have a passion for sharing it with others. But I also don't mind a good cupcake every now and then. Come by and visit when you get a chance!
I met Nicole on Twitter not too long ago. Her blog name instantly drew me in because it put a smile on my face. Once I visited I stuck around for awhile…I was so happy to find a site dedicated to delicious meatless meals! I don't call myself vegetarian but I pretty much don't eat meat (other than seafood and fish 1-2 times a week) anymore. Early last year, I challenged myself to cutting out meat entirely for the last two weeks of Lent. Previous to that I had started cooking 2-3 meatless dinners a week for my family and was already getting used to the idea of not having to include meat into every single one of our meals. By cutting down gradually, I also really learned new ways of getting in protein and keeping things interesting. At the time I was spending a lot of time with a friend of mine who is vegan, and I really learned a lot from her as far as how much easier it is to get plant-based proteins into your diet than most people think. I started looking at food differently…I saw kale as 6 grams of protein per serving and beans as a vegetable. It was an amazing transformation for me and after those two weeks of being meat free, I pretty much stuck with it. I feel my best when I eat less meat, plain and simple.
Now the reason I don't call myself vegetarian is because I'm just not. I still reserve the right to enjoy some of the food that I make for my family or friends…that is…I reserve the right to take bites of something that I want to taste (like a bbq pulled pork sandwich or my grandpa's chicken parmesan or meatballs)…and that works for me. It's been a great balanced way of eating for me and I absolutely love how I feel because of it.
A lot of people ask if my husband and kids complain about going meatless. They don't. They have no idea. Ha ha…actually, my husband does. To keep a healthy and happy balance on the home front, I usually make a few totally meatless meals a week for the whole family, and then on some nights I make their version and my version (Mexican meals are great for easy meatless versions). It all works out and I know that for us, eating less meat is a huge health benefit and I'm happy my children are growing up exposed to so much variety when it comes to food.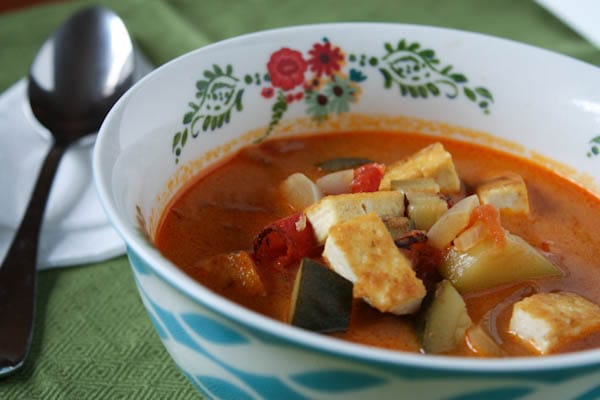 A few weekends ago I made this amazing soup out of the overflowing veggies I had in my produce drawer. The recipe comes from one of my favorite new cookbooks Super Natural Every Day by Heidi Swanson and this is the first recipe I tried out it. I have so many pages bookmarked from her book…she has some pretty awesome meatless dishes in there…yea, you'll be drooling for sure.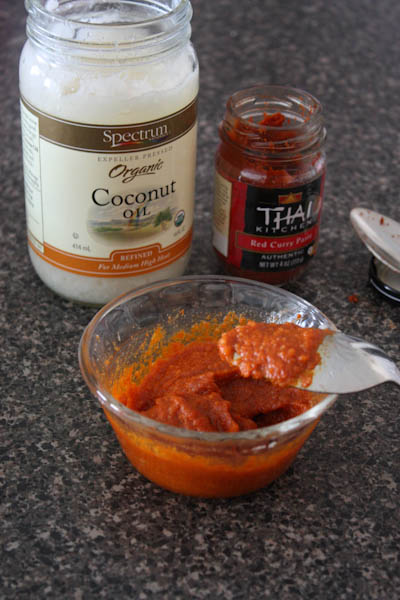 I've been experimenting with tofu a bit more lately and I'm happy to say that I'm really starting to like it. My family is too, go figure. I've made it a few times cubed and coated in sesame seeds and a drop of sesame oil then pan fried in a little olive oil, salt and pepper and my kids eat up a whole plate of it. Still amazes me. Don't ever underestimate your kids' tastes I say, you will be surprised!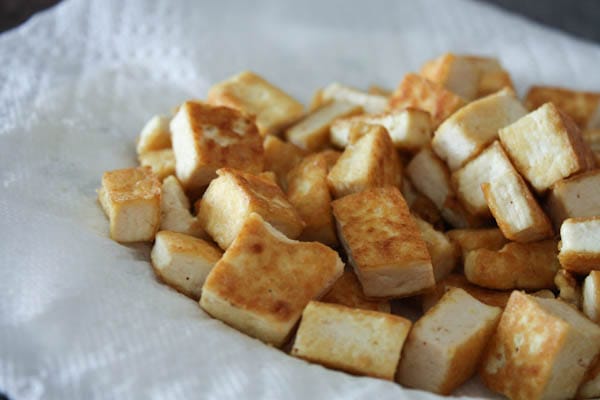 Hope you enjoy the soup as much as we did…especially now since we are heading into the season of chillier temps and shorter days. A bowl of this will definitely hit the spot. Thanks so much for having me here Nicole!
Red Thai Curry Soup with Tofu Croutons
Recipe adapted from Super Natural Everyday by Heidi Swanson
1 package of extra firm tofu, cut into small cubes, seasoned liberally with course salt and fresh ground pepper
2 tablespoons olive oil
2 tablespoons red Thai curry paste
2 tablespoons coconut oil (or whatever oil of your preference)
1 large sweet onion, chopped
4-5 cloves garlic, minced
3-4 zucchini, cut in chunks
1 large red bell pepper, cut in chunks
2 cups vegetable broth (I use water seasoned with Better Than Bouillion vegetable bouillion)
1 can coconut milk
1 can diced tomatoes, optional (I did not add this, but will next time)
In a large non stick skillet, heat olive oil over medium-high heat. Carefully add tofu to pan and saute on one side till golden brown, about 4-5 minutes. Gently flip and continue to cook until all sides are browned, about 4-5 more minutes. Set tofu aside on a paper towel on a plate.
In a small bowl, combine coconut oil and curry paste together. Once incorporated, add to a soup pot over medium high heat and cook until fragrant, about 1 minute. Add onion, garlic, salt and pepper to pot and cook until onions are tender, about 3-5 minutes. Add squash and red pepper to pot and cook for a couple of minutes. Add broth and coconut milk (and tomatoes if using) to pot and bring up to a slow boil. Reduce to a simmer and cook for about 15 minutes. Taste for seasoning and adjust if necessary.
Serve soup in bowls topped with croutons.
If you enjoyed this post, make sure you subscribe to my RSS feed!